Lunch Cruise
We are currently closed for winter maintenance and expect to reopen mid October.
Explore the beautiful Bay of Islands

Learn of the turbulent history of the area, and enjoy a great kiwi BBQ meal.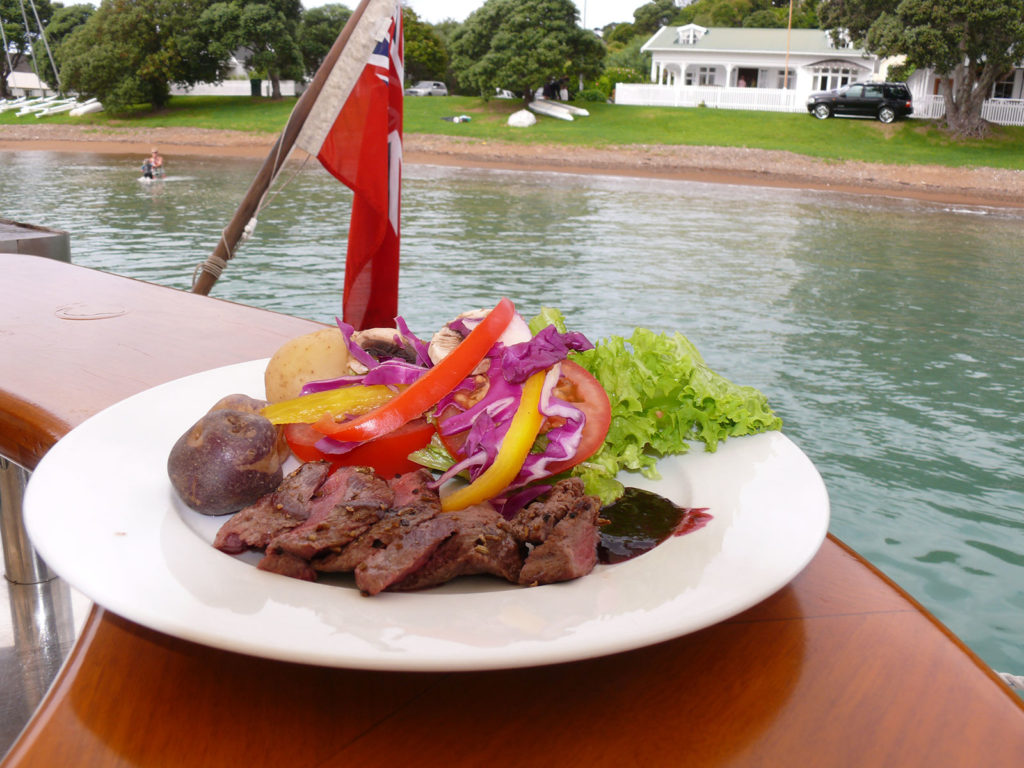 Lunch Cruise
Step aboard the custom-built 'Ratanui', sit back and relax. Let our friendly crew take care of you for the next 2.5 hours.
Departing Paihia Wharf, cruise out into the bay and head to Opua and Okiato. Pass the Omata Estate Vineyard on the way to Kororareka Oyster Farm. Lunch is served as we turn towards Russell and you have the option of disembarking here or return to Paihia. If you do decide to disembark in Russell, we'll shout you the ferry ride to get you back to Paihia.
Once known as the 'hell hole of the Pacific' by whalers, traders and sealers, Russell was the original port in the north before the larger port in Auckland became more popular. Russell is now a picturesque waterfront village full of old homesteads, historic churches and wooden cottages.
Lunch is served
Our delectable menu includes New Zealand venison, New Zealand lamb or tasty fish. Tea and coffee is available to you at any time throughout the cruise, as is the cash bar. Sit back, enjoy the 360 degree view of the surrounding native bush and pasture land.
The water is teeming with marine wildlife and native birds, so don't forget your camera! The Bay of Islands is often visited by several itinerate families of Bottlenose dolphins.
The lunch cruise is a perfect way to spend time in the Bay, making wonderful memories of your visit to the 'Winterless North'.
Maximum capacity 55
LUNCH CRUISE
LUNCH TO RUSSELL
2.5 hours
Adult – $95.00
Children – $35.00 (5 – 14 years inclusive)
Under 5's – Free of charge
Rates in NZ Dollars.
Valid from 1st Aug 2023 – 31st July 2025
Please Note:
All cruises are subject to availability, passenger numbers and weather conditions. Darryl's Dinner Cruises reserves the right to cancel any departure without prior notice in the interest of passenger comfort and safety.
Vegetarian meal options available on request